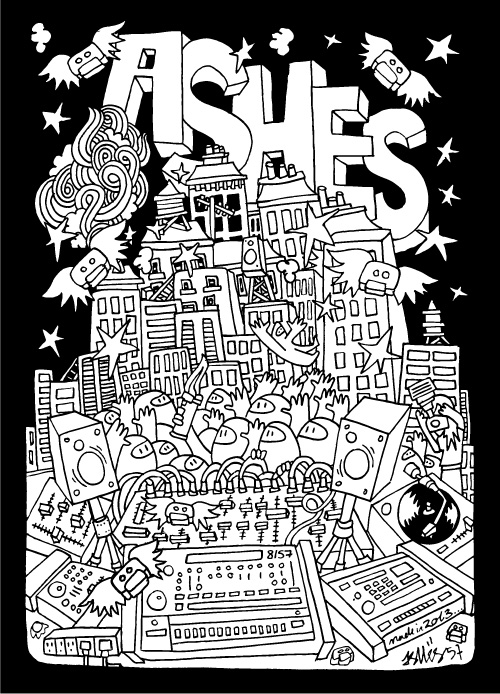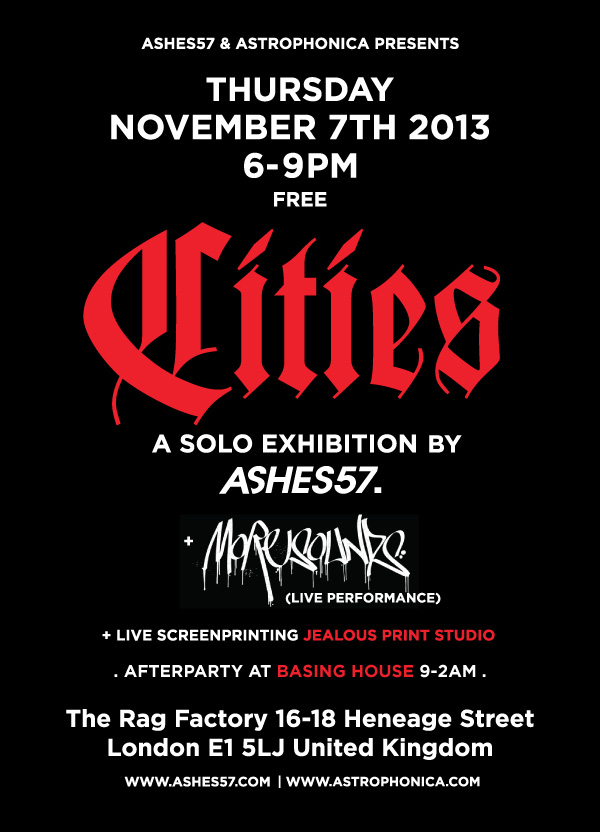 For one night only, an exhibition of new work by ASHES57 and the release party for the new EP by MORESOUNDS on Astrophonica.


Cities is a solo exhibition of new paintings, photography and print work by ASHES57 to be held at the Rag Factory on Thursday, 7th November 2013. The exhibition is inspired by the sights and sounds of the urban jungle with intricate scenes of London, New York, Paris and many more, where DJs and music lovers lurk in every corner. Special edition screen prints will be available to purchase, made to order in front of you by printmakers from Jealous Gallery.


The event will also feature a live set by MORESOUNDS to celebrate the release of his first record on Astrophonica.


+ Ashes57
++ Live Performance by MORESOUNDS (Astrophonica)
+++ Live Printing by Jealous Print Studio, www.jealousprints.com
++++ AFTERPARTY at Basing House (free with RSVP )








Moresounds is a Paris-based producer who channels the spirit of King Tubby in ways few manage in today's dance music world. Dance music in dub, dubbed dance music, dancefloor dubs.


Following releases on Om Unit's Cosmic Bridge, Moresounds is preparing a self-titled EP for Astrophonica>, due for release on November 11th 2013. The EP further refines his unique take on the infinite potentials that lie at the heart of jungle.


Ahead of this new release Moresounds will be making a rare live appearance in London, controlling the dance from his mixing desk. Tie your dancing shoes and get moving.

Available on 18th November 2013 from www.surus.co.uk/astrophonica
www.moresounds.net
www.soundcloud.com/moresounds
www.facebook.com/moresounds


www.astrophonica.com | www.facebook.com/astrophonica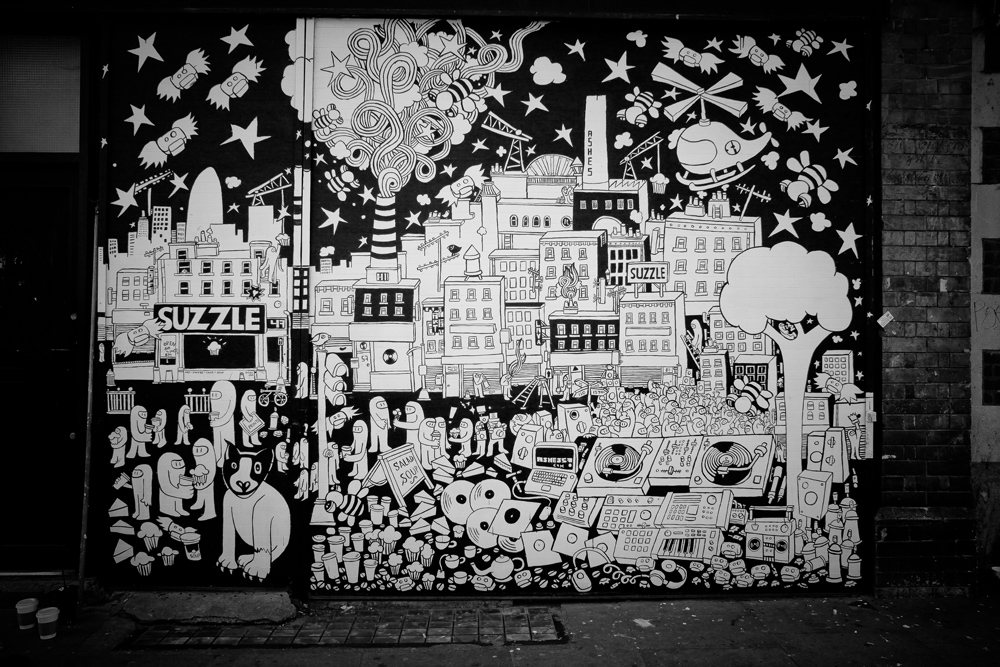 Ashes57 is an illustrator, painter and photographer whose work has provided some of the most iconic images of the underground bass music scene from the early days of dubstep through to footwork and beyond.

Collaboration with fellow artists and musicians has been fundamental to Ashes57's practice, starting with the time spent working with Shepard Fairey in his Los Angeles design studio. Her photography documenting numerous Obey exhibitions and street art projects has been included in publications such as Arkitip and Supply and Demand - The Art of Shephard Fairey and has also been displayed at the Institute of Contemporary Art in Boston. Street Treasures, a book of street art photography compiled over several years spent travelling the globe, was published in 2012.

From the flyers and posters she produced for the legendary Dub War parties in New York to artwork for the DMZ, Swamp 81 and Hyperdub labels, to name just a few, her illustration and design work has been the visual foil to many of the most exciting moments in electronic music of recent years. Other notable musical collaborations include the artwork for the Wu-Tang Clan's 2009 album, Enter the Dubstep, and the videos for three DJ Rashad tracks released on Teklife and Hyperdub.

Alongside all these other projects, Ashes57 has kept up a prolific output of her own artwork, which has been exhibited in more than 70 galleries all over Europe and North America.


Fine art screen print studio for limited edition screen printing.
www.jealousprints.com and more at www.jealousgallery.com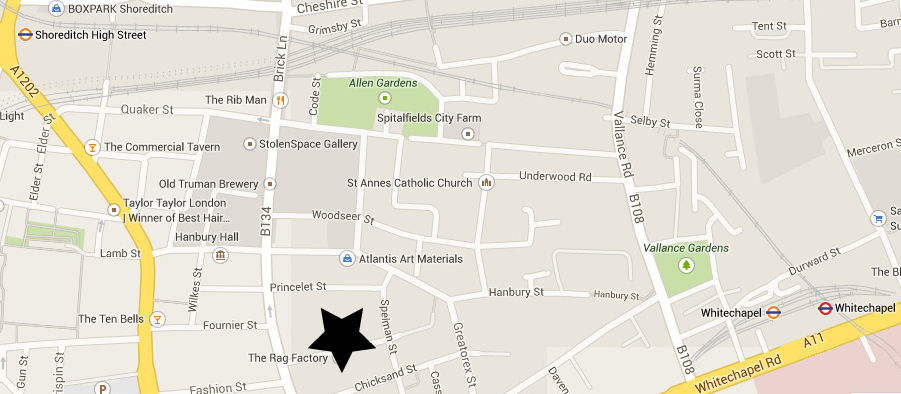 THE RAG FACTORY 16-18 Heneage St, London E1 5LJ, UK
www.ragfactory.org.uk


Thursday, November 7th 2013 from 9PM-2AM
BASING HOUSE 25 Kingsland Road, Shoreditch, London E2 8AA, UK
www.basinghouse.co.uk